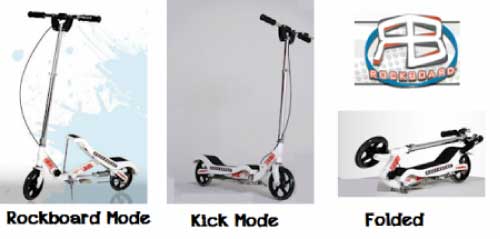 M-Y Products has designed one of the coolest toys for both kids, teens and adults alike with the Original Rockboard Scooter. This scooter is perfect for anyone 8 years of age and up weighing less than 200 pounds. The advanced Rockboard technology allows you to shred the pavement in Rockboarding mode, or quickly transform your Rockboard Scooter into a low-profile kick scooter, so that you're basically getting 2 scooters for the price of 1.
Hand brake (just like the kind on a bicycle and JUST as essential!)
This scooter goes up to 10 mph (see aforementioned hand brake feature

)
Kickstand (even though it folds flat, you can use the kickstand to keep it up and ready while on the move)
Eco-friendly mode of transportation (you can
travel
short distances quickly and easily)
The rear spring-enhanced suspension means the smoothest ride even on the most unforgiving pavement. With superior strength, and lightning quick dual-mode action adjustment, the Original Rockboard Scooter means hours of insane fun!
WIN HERE:
http://www.mommylivingthelifeofriley.com/product-reviews/giveaway-original-rockboard-scooter-m-y-products-rock-fun-arv-200/