The Fullham Group carries a wide selection of top-quality Ambia
ceramic tower heaters
and I had the opportunity to review the ACH-260 Two-Zone Tower Ceramic Heater. Keep reading to learn more!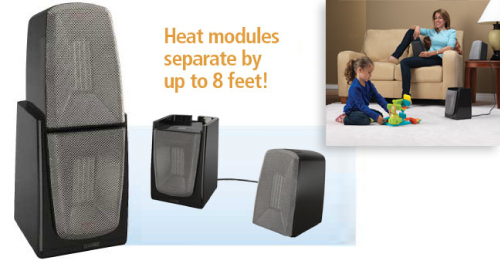 Customize your comfort with the
Ambia ACH-260 Two-Zone Tower Ceramic Heater
which provides you with precision, two-zone
control
in one top-notch product. The two heater modules can be used combined like a traditional vertical space heater or separated to direct heat toward two different places or even used as two completely independent heaters! The unique tethered heater modules can be placed up to 8-feet apart: one on either side of the bed, one on each side of a chair, or each aimed at two different people. The two zones combined with the two digital thermostats are perfect to give you precision control over your comfort and your environment.
Ambia's two zone idea was born from the frustration in trying to find the perfect position for a single heater. No matter how hard you try, it's just impossible to perfect the position. Either one person sits comfortably in a room while another is cold or your hands freeze while your feet bake. Ambia knew they needed to add another dimension to space heaters so that everyone in a room can be comfortable.
The Ambia ACH-260 Two-Zone Tower Ceramic Heater is ideal for a host of situations, and allows each user to make their own heating decisions. For example, you can set one module on each side of a bed, or simply set both modules facing one chair to create a cozy envelope of heat--it's even possible to set each module to face different people in the same room or operate as two independent heaters. With the
Ambia ACH-260
, you can truly customize your comfort.
Features and Key Specifications:
Two modules that can separate up to 8 feet or operate independently
Dual precision digital thermostats
Tether cord can unplug for easier routing
Vertical design for narrow areas
6 level safety system
1500 Watts
With this space heater's digital
controls
, it's easy to dial in to the perfect temperature setting and then choose between heating the top, bottom or both modules for the perfect level of comfort...every time. It's also easy to store, with handy cord storage that lets you keep your tether cord stored neatly in the rear compartment to prevent additional clutter.
Is it too strong a statement to say that this ceramic tower heater might have finally brought an end to the never-ending winter battle of the thermostat in my house? I don't think so. Since utilizing the ACH-260 in our family room, my husband and I haven't argued once about whether the house is too hot or too cold. We both can select our own level of comfort from the individual heat modules, so that everyone is happy. Of course, Riley bounds back and forth between us based on how hot or cold she thinks the room should be.
Because we're not using our central heater to warm the entire house, just the Ambia ACH-260 to heat the specific room we're in, both my husband and our household budget are grinning ear to ear! I highly recommend this item for your home this winter...save money, stop arguing and experience your own perfect level of comfort!
ENTER
HERE:
http://www.mommylivingthelifeofriley.com/product-reviews/giveaway-ambia-ach-260-two-zone-tower-ceramic-heater-arv-90/