Unfortunately, as we age our eyesight and hearing capabilities diminish somewhat. Simple tasks like dialing a phone number or listening to an important phone call can prove especially challenging.
RadioShack
, a leader in consumer
electronics
, carries a wide variety of Clarity phones. These specialized telephones use Clarity Power technology which enables loud and clear conversation, allowing much better communication than on a standard telephone.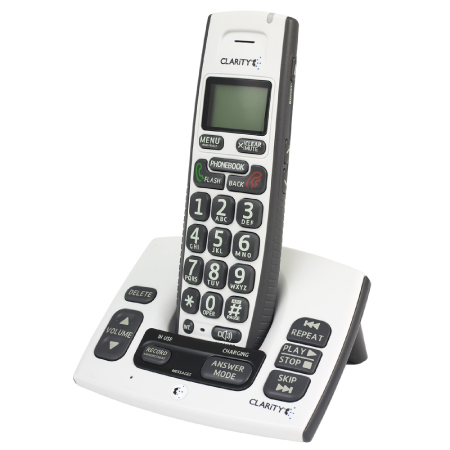 The Clarity D613 Amplified Cordless Phone with Digital Answering Machine has many features which will help anyone with visual or hearing impairments enjoy a conversation on the phone again. The Clarity D613 cordless Caller ID telephone, featuring Clarity Power technology, improves conversations by making words not only louder but also clearer and easier to understand. With up to 30 decibels of amplification, the D613 is ideal for those with hearing loss, and the large, soft-touch buttons are useful to those with declining vision.
Clarity Power technology for loud and clear conversations
Amplifies incoming sounds up to 30 decibels
Large, high-contrast and easy-to-press buttons
Large Caller ID display with large numbers (service subscription may be required)
Loud and clear handset

speakerphone

with intercom between handsets
30-name/number phonebook with 9 memory buttons
5-number last-number dialed memory
DECT 6.0 technology for crisp, clear, interference-free communication
Call Waiting Caller ID (service subscription may be required)
Digital answering machine
Expandable up to 5 handsets
English, French and Spanish menu language support
Hearing aid and T-Coil compatible with TIA®-1083
ENTER HERE:
http://www.stumbleupon.com/su/1L5iEO/www.mommylivingthelifeofriley.com/2011/06/giveaway-plow-hearth-woodstock-gregorian-alto-wind-chime/